UNIDEN BT850 BLUETOOTH HEADSET SUIT UH850S HANDHELD RADIO
Enjoy Handsfree Communication when communicating on the go whether when driving or hiking to keep you connected. In this accessory kit includes a Bluetooth Dongle, Wireless PTT and a Handsfree Bluetooth Headset.
Uniden's reliability and experience in UHF makes this unit ideal for the professional who needs to keep in touch with the outside world. The BT35 offers the finest components, engineering and styling, just what you would expect from Uniden.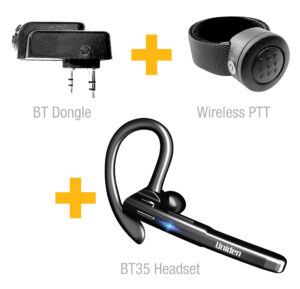 1 x BT35 headset with spare earbuds
1 x Wireless PTT
1 x BT Dongle for UH850/ uh850s uh850tp
1 x AC-USB adaptor
1 x USB-C cable for BT headset charging
1 x USB cable for Wireless PTT charging
1 x USB cable for BT Dongle charging
Compatible Models:
UH850 Series