Uniden BTX50 Bluetooth Headset with Wireless PTT to suit Uniden XTRACK50PRO
Introducing the new XTRAK Bluetooth Headset for Handsfree Communication for the Range of XTRAK 50 and Other UHF Radios. This kit allows compatible non-Bluetooth UHF Radios to pair to this Bluetooth headset.
Enjoy Handsfree Communication when communicating on the go whether when driving or hiking to keep you connected. In this accessory kit includes a Bluetooth Dongle, Wireless PTT, and a Handsfree Bluetooth Headset.
Uniden's reliability and experience in UHF makes this unit ideal for the professional who needs to keep in touch with the outside world. The BT35 offers the finest components, engineering and styling, just what you would expect from Uniden.
CVC- Clear Voice Capture (Noise Reduction)
Up to 6 Hours Operating Time
USB-C Charging
In-Ear Silicon Buds for Maximum Comfort
Adjustable ear hook for left side right side wear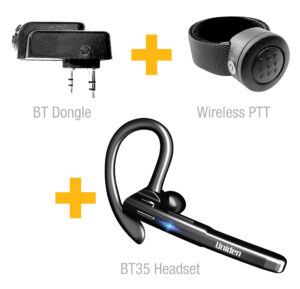 Compatible Models:
XTRAK 50 Series
UH785 Series
UH755 Series
UH200 Series
UH150 Series
Connection Time: Up to 6 hours
Standby Time: Up to 80 hours
Connection Range: within 10 metres
Charging Time: 1.5 hours
Bluetooth Version: V5.1 CLASS 2
Profile Support: AVRCP V1.6 and A2DP V1.3 and HFP 1.7
Frequency Range: 2.4GHz
Battery capacity: Polymerize li-ion battery 60mA
Size: 80 x 10.5 x 7.5mm
Weight: 12g